Women in Construction: Is 13% good enough?< Back to Blog
The most recent ONS* report on the construction sector (for 2018) describes the numbers of people employed by the sector and how things vary between different regions in the UK (with the South East and London topping the list for construction employment).
What it doesn't include is any mention of the male to female ratio of this workforce. For that, we have to look back to data from 2016 which shows that 87% of workers in this sector are male and only 13% are female. Despite industry efforts to attract new recruits from a wider talent pool (including women), this statistic has barely changed since the last recession.
With International Women's Day coming up this weekend, we're asking if this is problem for our industry, what might be preventing women from taking up construction roles and whether there are any success stories that women thinking about a career in construction can take inspiration from?
Is this a problem?
So, the answer to this first question is a resounding yes!
As most people know, the construction industry has in recent years been suffering from an ongoing shortage of skilled labour. By all accounts, the sector is also about to be hit with further difficulties in terms of being less able to attract and use EU labour due to Brexit.
With that in mind, attracting more female workers could be critical for a sector that's facing some challenging demands for housing and infrastructure projects across the country.
What's stopping women from going into construction?
There are several barriers and challenges which seem to be stopping women from either entering construction in the first place or progressing within the industry once they're part of it.
Lack of flexibility, few female role models in the industry, a culture of everyday sexism and even practical issues like the fact that standard issue PPE rarely includes female sizes all play a part. However, perhaps the biggest reason for the skewed male/female ratio is the way the industry is not widely promoted as an option to girls in schools and colleges, either for entry-level jobs or apprenticeships.
When it comes to apprenticeships, take a look at this fact: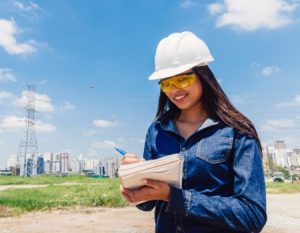 For every female entering construction through this route in England there are 50 men.
The Young Women's Trust has looked at this issue further and reports that "young women feel locked out of certain professions and funnelled down narrow career paths" – hairdressing and childcare instead of engineering, for instance. And, because these roles are paid at different levels this adds to the gender pay gap. The average weekly wage for hairdressing and childcare apprentices is £161-206 compared to £289 for those in engineering.
What about the success stories?
The good news is that, although women still make up such a small percentage of construction workers, many of those who do choose a career in the industry are making a huge success of it.
Take Emily Burridge**, for example, a young woman whose passion for concrete and quarries brought her to the attention of the BBC last year.
Just a few years ago, after finishing her A Levels, Emily was working in a pub while looking for an apprenticeship in a graphic design role. Finding that opportunities in that sector were hard to come by, Emily widened her search and, although she'd never even visited a quarry before, the opportunities to work outdoors and be hands-on drew her towards applying for a degree apprenticeship with aggregates giant, Hanson.
As the first girl to be hired onto the scheme, Emily has been something of a trailblazer ever since. In 2019, by the age of just 22, Emily had landed a job as a 'Technical Production Manager' (replacing a man of retirement age), graduated with her foundation degree, was working towards her honours degree, had no student debt and had already managed 25 quarries!
Within an environment that is generally dominated by men, Emily described her experiences in the concrete business as overwhelmingly positive:
"It's going to sound sad, but it's my passion, my newly-developed passion, I do love it," she said, adding that she would like to see more young women come forward: "I think they're very put off by the fact that it's working outside and you can get dirty… but mostly I think it's that they don't consider it an option, I didn't consider it an option."
Hanson's head of recruitment, Helen Johnson, commented: "Historically females were not told about opportunities in the construction and building materials industry as it was assumed only males would go into it. We need to change this."
Emily told the BBC that she feels there are no barriers to her future progress. With International Women's Day coming up on 8th March, we thought she was an inspiring example both of a woman getting her foot in the door of a typically male dominated industry and of a young person excelling due to qualities like flexibility, determination and being up for a challenge.
At Sheriff Construction, we're keen to support a diverse workforce and would encourage people from all walks of life to consider the benefits of a career in construction.
Contact us if you would like to discuss an opportunity with us.
05.03.2020
*Office for National Statistics
**Emily's story source: BBC
Image source: Freepik