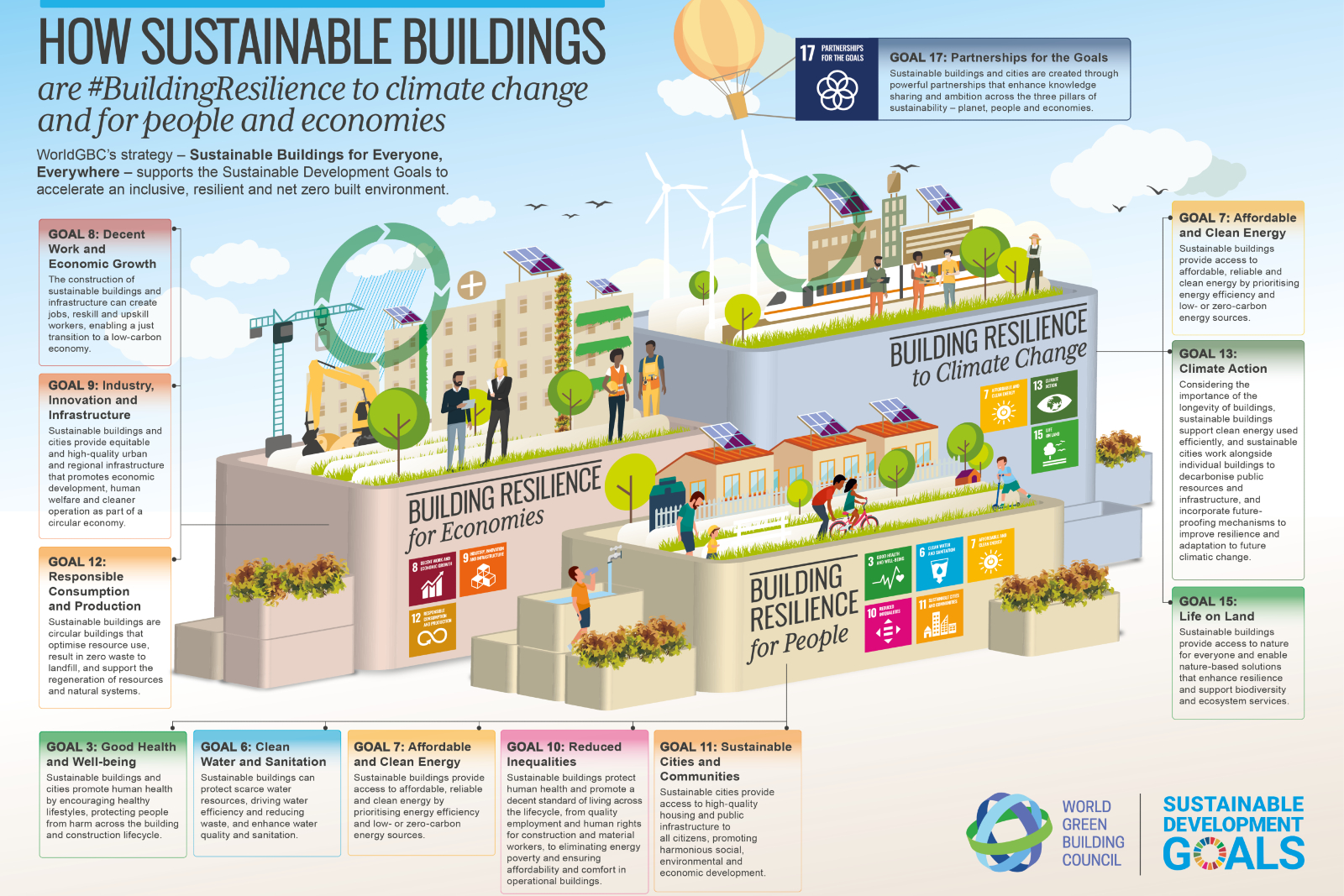 Calling on the world's built environment to focus on delivering sustainable buildings for everyone, everywhere, World Green Building Week is the largest campaign of its kind.
So, although the official campaign, which is organised annually by the World Green Building Council, was officially last week (20th – 24th September), perhaps something this important deserves our attention every week!
What's it all about?
Led by a global network of 70 Green Building Councils and their 36,000 members, the campaign highlights how that network is working to support global Sustainable Development Goals and progressing towards a resilient net zero built environment. It also calls for everyone involved in the building sector to play their part. Take a look at the image above for a summary of what this means and delve into all the details here.
Why is it important?
Buildings are responsible for 38% of global energy-related carbon emissions and 50% of all extracted materials. Four billion people are vulnerable to climate risks and 91% of people worldwide live in areas with air pollution.
By 2050, the world's building stock will double, increasing the impact of our sector significantly. Its demand on natural resources accelerates climate change, and inefficient, unhealthy buildings are affecting our livelihoods.
The principle message behind World Green Building Week is that we must now drive forward with powerful solutions that build resilience to climate change, build resilience for people and build resilience for economies. This is how that works:
#BuildingResilience to climate change
A resilient built environment combats climate change by enabling affordable and clean energy. It also accelerates the adaptation to, and mitigation of the impacts of climate change on our most vulnerable regions and communities.
#BuildingResilience for people
The social dimensions of a resilient built environment can future-proof communities by addressing equity and climate justice issues. They can provide healthy environments and fairer access to vital social infrastructure such as schools, hospitals and green spaces.
#BuildingResilience for economies
A resilient built environment grows green jobs and supports the regeneration of resources and natural systems, providing socio-economic benefit through a thriving circular economy.
Remember the three Ps
The #BuildingResilience message reminds us of the three Ps – People, Planet, Profit – something which we talked about in a blog back in June. Basically, these three Ps can be used by any business (including construction) to measure performance. Instead of looking solely at profit, companies can assess their actions/ results in terms of their social value (the effect that practices have on people); their environmental value (the impact of actions on the environment); and their economic value (both company profit and economic benefit for employees and the surrounding community). Read the full blog here.
At Sheriff Construction, we're keen to play our part in progressing towards a more sustainable built environment and take measures which help to support this. For example, we make efficient use of our resources (minimising waste and re-using/ recycling wherever possible). We're taking steps to reduce our energy consumption. A key part of our business is installing effective insulation and green roofing on buildings. And, when it comes to our own property developments, we look at designs that are safe, secure, adaptable and energy-efficient.
If you have an idea about how we can become even more of a 'green builder', let us know.
27.09.2021
Feature image and information source: World Green Building Council