When choosing a brickwork or roofing contractor, you need to be absolutely certain of their credentials before work begins. Performance, quality workmanship, qualifications, adequate insurance and health and safety credentials are all important.
At Sheriff Construction Ltd, we run a continuous programme of training and improvement for our team of bricklayers and roof installers, including First Aid training. We are an approved contractor for several flat-roofing systems (e.g. IKO, TuffStuff and Axter).
Our commitment to professional standards and safe practices is second to none. Two members of the management team have successfully completed the 'Managing Safely' course run by the Institute of Occupational Safety and Health (IOSH). When required, we also employ an external professional Safety Advisor to oversees the Health and Safety of our operations.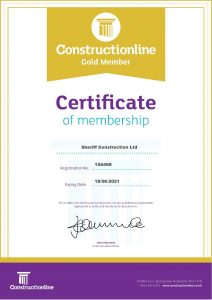 Sheriff Construction is compliant with the Contractors Health and Safety Assessment Scheme (CHAS) and is a Worksafe Contractor approved by the Safety Management Advisory Services (SMAS). We are also Premium members of Builder's Profile and Gold members of Constructionline, the UK's largest register for pre-qualified contractors and consultants, ensuring we meet the latest government standards.
We possess full indemnity cover for all our activity, including £10M worth of employers and £5m public and products liability and are members of Quality Assured National Warranties (QAWN), one of the UK's leading providers of insurance backed guarantee schemes.
Sheriff Construction has a full set of company policies in place covering areas such as equality/ diversity, environment, quality, health and safety and data protection. Our data protection policy has been updated to reflect GDPR – you can view this policy here.
We also have a sister company, Limon Homes Ltd, through which we manage some of our own property development projects. Limon Homes Ltd is a registered member of the Consumer Code for New Homes.
Please get in touch if you would like to view copies of any of our other policies, certificates or insurance documents.