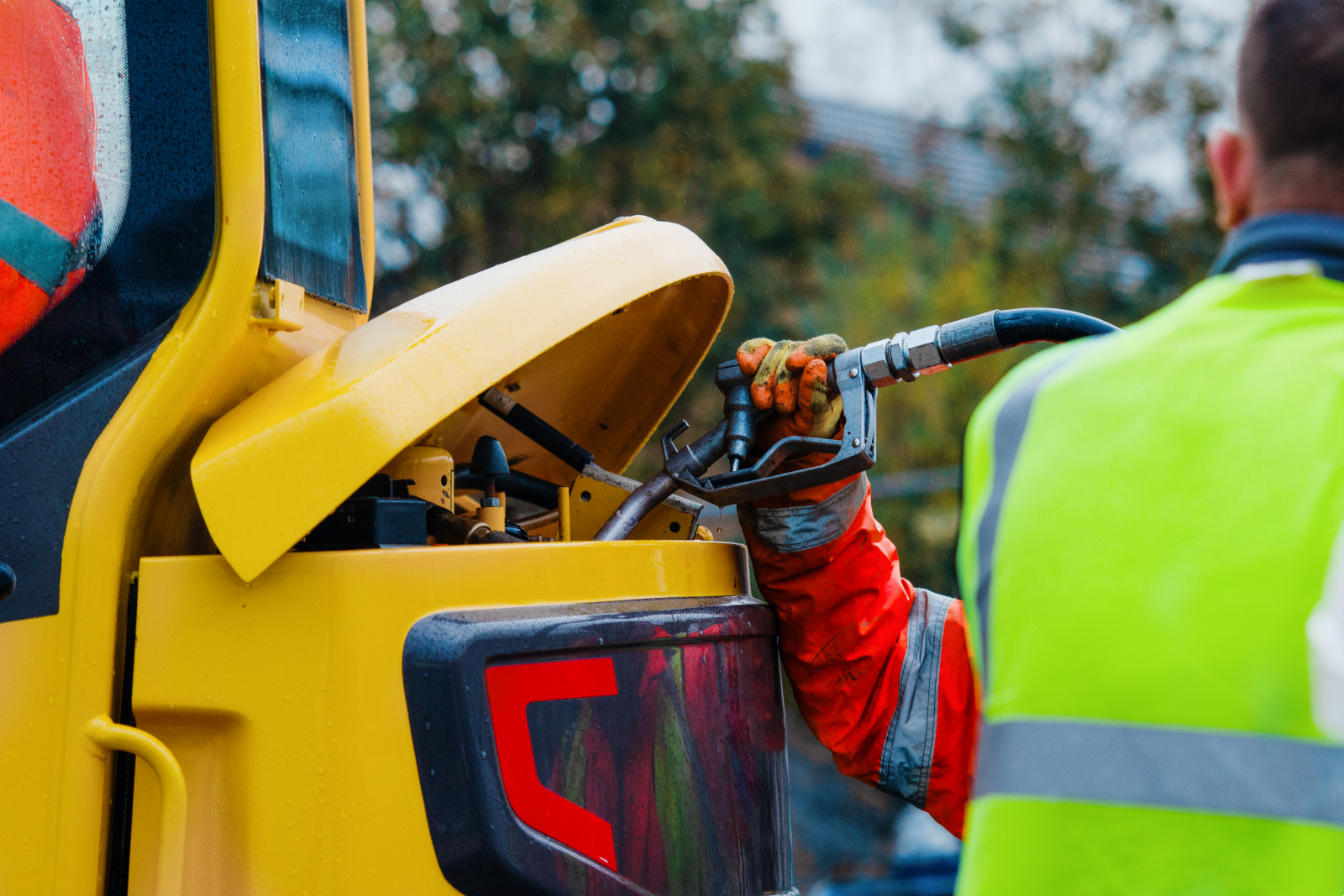 In new rules which came into place on Friday 1st April, the government has stated that construction firms in the UK can no longer use red (rebated) diesel for site plant and machinery.
Brought in as part of the search for policies which will help the country hit its net zero target by 2050, this would seem like a good thing. However, looking at the impact this is likely to have on construction companies in the current economic circumstances, many in the industry are calling this 'the right policy at the wrong time'.
What is red diesel?
For many years, red diesel has been used in construction as the main fuel source for generators and site machinery like excavators, bulldozers, dumpers and cranes. It is actually no different from the normal 'white diesel' that's used in cars and vans, except for the fact that it is taxed at a much lower rate and is chemically dyed red (a deliberate measure designed to ensure it isn't illegally put into road vehicles).
Why the change?
According to the government, red diesel makes up 15% of all diesel used in the UK and leads to the production of 14 million tonnes of carbon dioxide per year.
While not going so far as to ban its use altogether (some limited exceptions are being made for industries like agriculture, forestry and fish farming), by disallowing it within construction, the government hope companies will speed up their switch to greener alternatives (e.g. hydrotreated vegetable oil), improve the energy efficiency of their machinery or use less fuel.
What impact will this have?
Undoubtedly, the greatest impact on construction relates to the different tax rates which have been applied to red and white diesel.
While the diesel used for road vehicles is taxed at 57.95p per litre, red diesel has until now qualified for a rebate of 46.81p per litre, meaning its duty rate is effectively 11.14p per litre. Until now, that has made red diesel nearly 47p per litre cheaper than white diesel.
Having to bear the costs of that extra duty is expected to have a significant impact on construction costs. The government previously estimated the change will increase average business fuel costs from £30,000 to £51,300 a year. However, industry leaders now calculate this could be as much as £87,000.
Earlier this month, the leaders of 15 construction bodies, including the Federation of Master Builders, National Federation of Builders, Home Builders Federation and Build UK, wrote to the Chancellor, Rishi Sunak, calling for a 12-month delay to the changes.
Arguing that things have dramatically changed since 2019 when the Treasury commissioned a report showing that nearly two-thirds of businesses agreed they would switch from red diesel to cleaner alternatives, the leaders said:
"This report was before the covid-19 pandemic and makes assumptions that this technology is on a growth trajectory. It therefore doesn't account for covid-19's impacts on semiconductor shortages, which are expected to run until 2024, or the stagnation of global biofuel production, which is now at peak demand and sees HVO biodiesel priced above white diesel."
The changes are here
Despite those calls for a delay, the change has gone ahead and so construction firms do now have to ensure they're following the new rules. Here's the general advice:
Stop putting fresh red diesel into any construction machinery (this is now illegal).
Any red diesel in a fuel tank that has been filled on or before 3st March can still be used until it is run down.
Identify all equipment that uses diesel and keep a record of when the fuel switch has been made.
Keep hold of those fuel receipts/ invoices (they may be required as evidence of the right fuel being used in the event of a check by HMRC officers).
Ensure everyone on your team is aware of the new rules.
For more details on this story, visit the HMRC guidance here
04.04.2022
Feature image: Freepik