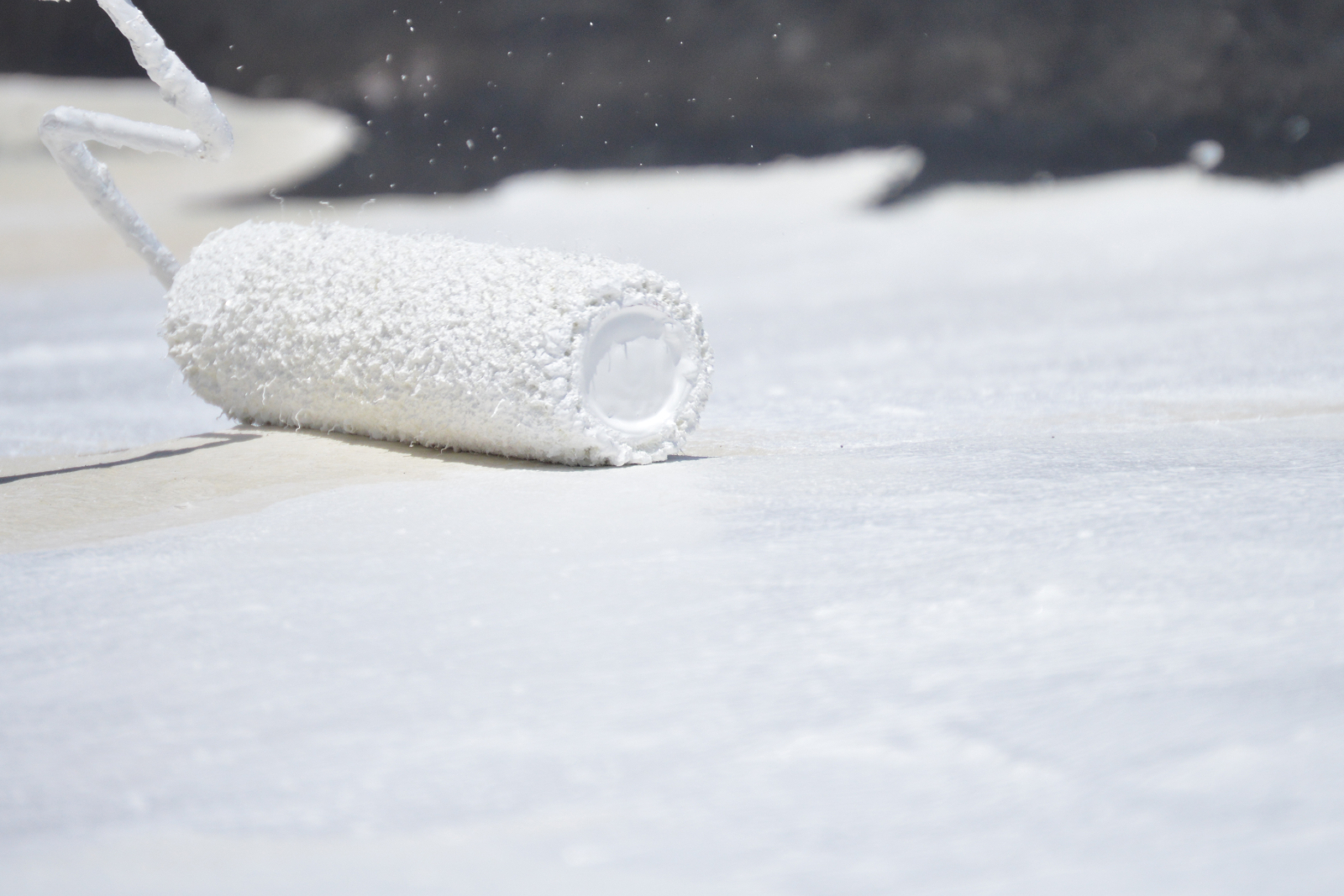 While the central role of a roof in covering and protecting the inside of a building from what goes on outside has remained the same, advancements within the industry mean that modern day roofing often goes far beyond the basics.
New technologies have added functionality and brought several benefits into roofing systems, including giving them longer lifespans, greater durability, enhanced resistance to harsh weather, guaranteed waterproofing, energy efficiency and measures that increase environmental protection.
Look around the roofing industry nowadays and you'll find all kinds of examples: flat roofing made from tougher and longer-lasting materials; green roofing that supports greater biodiversity in towns and cities; the introduction of polymeric materials and glass fibre into roofing insulation; and even new fireproof coatings made from volcanic rock.
With so much going on, we thought we'd use this week's blog to shine a light on two fairly recent innovations – cool roofing and blue roofing.
Go cool
By now, many people will have seen or at least heard of green roofing. Aside from the fact that it looks great, this type of roofing brings all kinds of environmental benefits – promoting biodiversity, helping to manage storm water, providing insulation which helps a building to achieve greater energy efficiency, and reducing the urban heat island effect.
Now there's another option – the cool roof.
In much the same way that wearing light-coloured clothing will keep you cool on a sunny day, cool roofs use highly reflective materials (paints, sheet coverings or shingles) to reflect more sunlight and absorb less heat than a standard roof.
Where standard or 'dark' roofs can reach temperatures around or over 65°c in hot weather, under the same conditions a cool roof could be more than 10°c cooler. This brings wide benefits for the building and its occupants, for instance:
Decreasing the need for air conditioning and thereby reducing energy bills.
Making spaces that have no air conditioning more comfortable (e.g. garages).
Lessening the chance of damage to the roof and thereby extending its overall service life.
On top of these things, cool roofs on buildings can offer several benefits for the local community and environment, e.g:
Reducing local air temperatures (the urban heat island effect).
Lowering peak electricity demand (preventing or reducing power outages).
Reducing power plant emissions, including carbon dioxide, sulphur dioxide, nitrous oxides, and mercury (as a result of reduced use of cooling energy).
Nearly any type of building can benefit from a cool roof, but before choosing this system it's important to consider factors like the local climate. If your location is prone to harsh winters, for example, then this might not be the best choice!
Go blue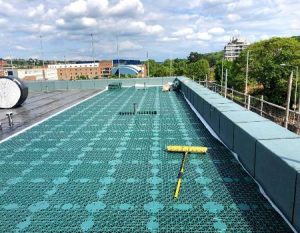 Climate change is causing some areas to be more frequently affected by heavy rain and storms, making the way that water is managed and released from roofs an increasingly important factor in preventing ground-level flooding. This is where another relatively new innovation, the blue roof, triumphs.
In traditional roofing, drainage systems are used to ensure rain water runs off the building into sewers, waterways and river systems. In contrast, a blue roof temporarily stores the water on top of the flat roof, treating and releasing it at a controlled rate (normally over a 24-hour period following a storm).
In additional to its contribution to flood defences, other benefits of this type of system include:
Reducing the land take and earth works requirements that come with many drainage systems.
Offering a solution that's easy to install/ maintain and cost effective.
Helping developers to demonstrate to planners that their surface water management complies with Sustainable Drainage Strategies (SuDS).
Suitable for roofing and podiums in domestic and commercial developments, blue roofs are already being used across the country, including an installation by Sheriff Construction carried out at a site in High Wycombe.
Innovation continues
Cool roofs and blue roofs are just two of many different innovations that have come into our industry over recent years.
As one of the leading installers of flat-roofing in London and the South East of England, we try to keep on top of all the latest technologies and have trained our teams to work with a great many different roofing systems, waterproofing materials and insulations.
Choosing the right roofing system is a crucial step in any development and decisions must take account of all kinds of factors like the location of the building/s, the surrounding community, the environment and the precise benefits that each type of roofing system offers.
Given the UK climate seems to be shifting towards hotter summers and stormier winters, if the choice comes down to 'cool' or 'blue' that decision might have to be based on more localised weather trends. However, with the industry continuing to bring new ideas into play all the time, perhaps there is yet another option just around the corner?
11.02.2021
Feature image: Lawrence Baker/Shutterstock.com